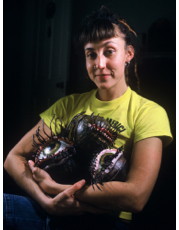 Kalleen Chilcote is an artist and educator located in Indiana. She is a feminist who finds unfading inspiration in the complexity, beauty and danger of the natural world. She is also a voracious reader, an occasional writer, the mother of a toddler and a former Rollerderby badass.
In school, Kalleen focused on Printmaking and has taught Lithography at UT Austin. She received a BFA in studio art from Tulane University in 2002 and an MFA in studio art from the University of Texas at Austin in 2009.
Currently, Kalleen teaches art to children and adults at non-profits in and around Indianapolis. Creatively, Kalleen's focus shifts between endowing her papier-mâché creatures with mythic proportions to create poignant and humorous installations that depict anti-patriarchy fantasies, and rendering dark, seductive, and allegorical, waterscapes.